About a week ago, I finally ordered my crib from overstock. Here is my story.
I first found the crib on Target and have been keep my eye open for it for weeks. It went on sale from $199.99 to $179.99, I was so excited and ready to order. But after shipping and tax, total cost would be $240+. I hesitated. Week after that, my crib was sold out. I went into this panic mod. How could it be?! I then started to search it cross the internet. After being disappointed at Amazon and Walmart, I finally found it on overstock! The price was $199.99 as well and the shipping cost it only $2.95. Best of all, there is no tax. I know they have coupons floating around the internet. 2 days later, the price went up to $209.99. I kick myself not getting it at $199.99. But few days later, they sent me an email with a 10% off coupon! I finally made up my mind and ordered it last week. With the 10% off coupon, my total including shipping cost was only $191.94. I am quiet happy with that. It pays off to compare apples to apple and it pays off to be patient. Here is a picture of my crib.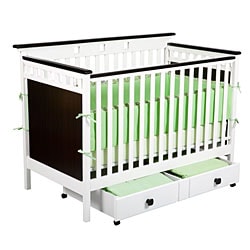 It's a 4-1 crib which can be easily convert into toddle bed, day bed and a full size bed! All pieces are included. Even comes with those drawers for storage.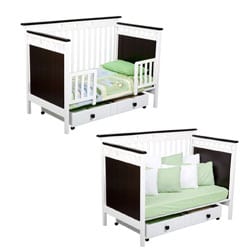 Can't wait to set it up in my little girl's room!